The success of Cardamom County led to the expansion of Muthoot's hospitality venture. In 2005, MLHS began a new project, moving from the cool climes of the Thekkady hills to below sea level in the Kerala backwaters near Alleppey. The inclusion of the houseboat cruise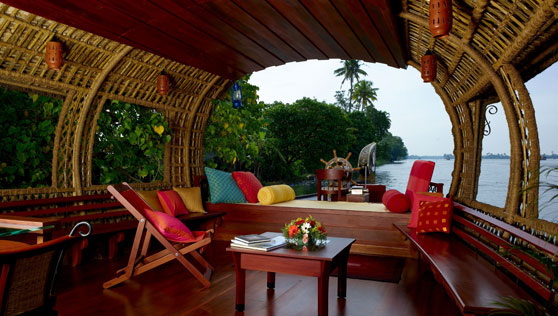 has become part and parcel of every travel itinerary focused on Kerala, and Xandari Riverscapes has achieved the highest rankings in the booming houseboat market. A dawn awash in pink and orange; verdant lands bearing rice, coconut and banana; ripples on Vembanad lake the only sound for miles; sightings of kingfishers and cormorants; seafood freshly harvested from the waters - Xandari Riverscapes has mastered the perfect backwater experience.

Our fleet of 10 traditional houseboats, called "kettuvallams", are designed to complement the tranquil passage on the picturesque backwaters. They are built with wood harvested from local jackfruit tree plantations, hand-stitched by local craftsmen with coconut fiber rope (coir) and strengthened with fish oil—a tradition pre-dating industrial engineering techniques but proving stronger than modern alternatives. We are committed to keeping this knowledge and traditions alive, with your support.

Each houseboat is furnished comfortably and attractively while hewing close to tradition. The boats have one, two or three air-conditioned bedrooms. All have an open-air living area and a fully- equipped kitchen. From the viewing deck, or through your bedroom's picture window, and on a canoe through the backwater heartland, you will see simplicity in action, and the result is immediate: slown down, de-stress, rejuvenate.

Meals are an essential part of the Xandari Riverscapes experience. With your backwater excursion beginning at noon, sit down to a delectable lunch of classic Kerala cuisine cooked on board. Dinner comes calling under starlit skies on clear nights, at the spot where your boat rests to watch the day close out. Rise to the sight of sun rays dancing into your bedrooms, and watch the day unfold as the boat sails past a day in the life of the backwater country.