Gateway to the oldest Jewish community in the world and the last vestiges of colonialism, Mattanchery is anchored in history. Its identity as the nucleus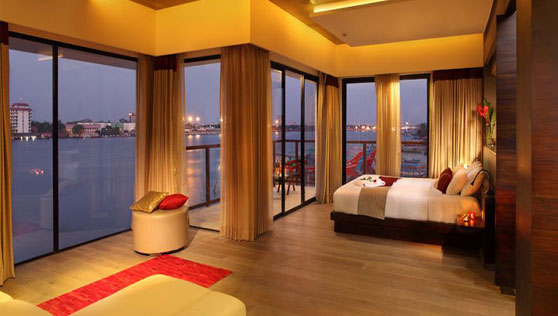 of a spice trade spanning centuries breathes today in still-standing godowns and warehouses. Straddling Bazar Road, these structures once stocked spices like pepper and cinnamon before traders moved across the harbour, to the thriving city of Ernakulam. The bustle of trade lulled, several of the buildings crumbled away and others waited - with downed shutters - for a new calling.

The century-old warehouses that make up Xandari Harbour are some of the last. Preceding MLHS' conservation-focussed thinking, the three buildings that comprise the property served different purposes. One served as a chummery or lodging house for ship captains, eventually becoming a modest hotel. The other waterfront godowns housed spices and groceries like rice before they were used by fishermen as pass-through.

Respectfully restored and largely untouched, the buildings and their maritime legacy find a renewed being today in Xandari Harbour. This 16-room gem box of a hotel is walkable distance from Calvathy boat jetty and midway between Vasco da Gama Square and the famous Dutch Palace.

Views of the harbour and a bustling spice trade mark the 14 tastefully done guestrooms and 2 suites. From the spectacular Harbour Suite – with water views on three sides - watch colorful fishing boats head out to sea. The Spice Suite also looks over the water, with the added feature of offering snapshots of Bazaar Road. Of the 14 guestrooms, four are on the waterfront, four have private gardens and the rest have large picture windows that frame panoramas of blue and the vibrant colours of trade. The infinity pool in the center of the property, which seems to float on the edge of Kochi harbour, offers the perfect place to refresh after a day on the town.

The menu at the all-day restaurant, 51, is based on the coast's position as a trade magnet throughout history. For thousands of years, starting with Egyptians, ships have docked here in search of spices. With the spice and the silk routes intermingling, Eastern Mediterranean influences entered local cuisines. This blend - what we fondly call Malabar Soul Food – brings together Indian and Mediterranean ingredients and food ways, slow cooked for our guests to enjoy.

Xandari Harbour is a nostalgic reminder of ancient sea routes and trade; of visitors and kindred who left a mark on the landscape, faith, and culture of the land.

This is the firm anchorage of our conservation story.