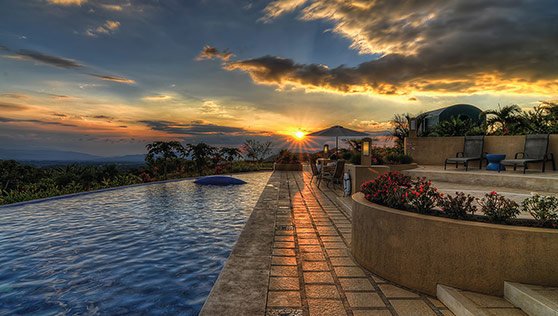 Art and architecture are highlights of the Xandari experience in Costa Rica. 24 spacious villas nestled on a 40-acre plantation are surrounded by lush gardens, with terraces facing spectacular views of Costa Rica's majestic Central Valley day and night. Each is a unique design, with tropical colors and contemporary design.

When the land where Xandari Resort is now located was purchased in 1989, the property was almost entirely planted with coffee, except for those areas too steep to harvest. There were few birds or butterflies as there were no trees, bushes or flowers to attract them. Slowly, we began to replace areas of coffee with trees and tropical plants in an effort to return the land closer to its natural state. Here, our aim is to diminish the environmental impact of all hotel operations and to protect the invaluable natural resources of the area.

A private forest reserve with rivers, five natural waterfalls, and 2.5 miles of trails offers excellent hiking, birding, and communion with nature. Three pools, each with a unique view of coffee plantations, provide added incentive for a morning swim. Or, start your day in our Yoga studio and save your swim for later at our sunset pool. Wide range of natural treatments are offered in private jalapas at the Spa Village, each featuring a hot-tub overlooking forest and valley at 3,900 ft.

Xandari's terrace restaurant features a variety of healthy choices, from Costa Rican specialties to Mediterranean and Californinan cuisines. Our farm-to-table menu begins at breakfast and continues through lunch and dinner, featuring produce sourced from our own plantations using all-natural methods.

At Xandari, sustainability underlines our every effort. Guests are invited to plant native trees during their stay at Xandari. We research which trees, bushes and flowers especially attract, feed and provide shelter to the various types of birds and butterflies that inhabit Costa Rica and are constantly adding new varieties to our botanical gardens. Listen to the songbirds as you walk through the orchards or take any of the guided tours to the farms, orchid garden and greenhouse.

An experience that is a perfect testimonial to Nature's inherent ways, a community's bond with the earth, and the promises of a responsible way of seeing the world - that is Xandari.